I am at a bit of a loss for words. Read the article and watch the video.
Anyone know where it is and who the breaker is? His future pension is assured.
---
Hi everybody,
After many months of reading this very useful forum before buying a p38, let me introduce myself.
I write from Italy and this is my first Range Rover. I know I started with one of the models with the worst fame but I've always liked it and after bringing her home I can say I'm definitely in love.
It is a 2.5 DSE from 1998 with typical Italian equipment (full leather, headlight wipers, sunroof, manual gearbox, heated seats, etc). Oddly enough at the moment everything works (hevac, EAS, sunroof), just had a good service at an independent specialist and am now working on restoring all the little things that need to be fixed after 25 years of life.
Also bought immediately a Nanocom to stay on the safe side... ;-)
As you can see I updated the lights to the 2000 model because I prefer them (but of course I kept the original ones in storage), still waiting for the clear side repeaters delivery.
Let's get to the question: I'm desperately looking for a new sunroof seal which seems impossible to find. Do you have any suggestions?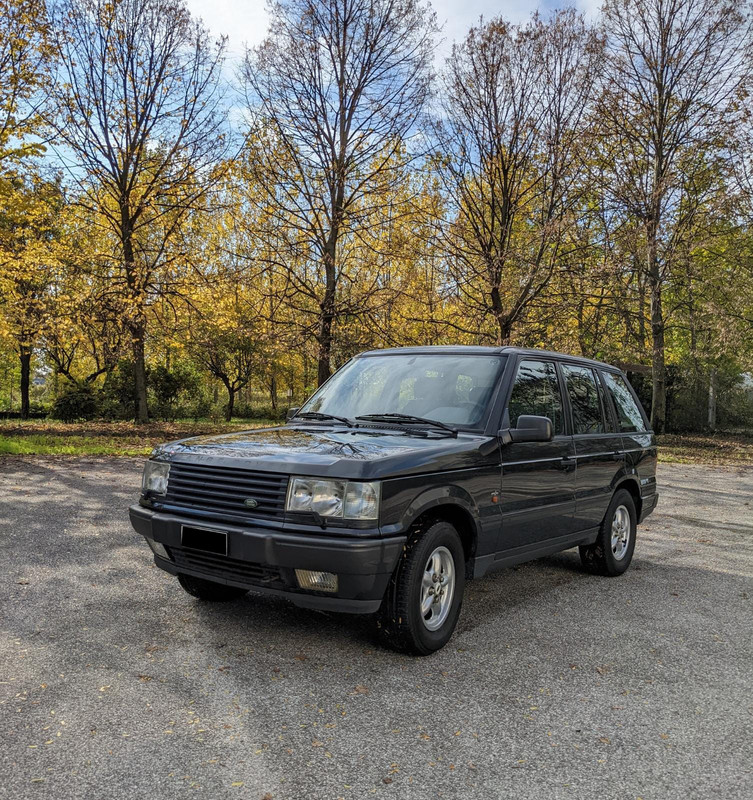 ---
After looking through a collection of pictures that I have about the door handles I can now see what the cam kit does. So, no need to have to post any replies 😀 .
Hi guys, could somebody explain where this cam kit fits, please ? STC3064 KIT-CAM DOOR LOCK.
I was talking to a friend, last week, and mentioned that the nearside front door handle isn't pulling right in, even though it is only 18 months old. I bought all new handles from Rimmers the year before last and for some reason the passenger door front isn't springing fully back into the door.
The guy I spoke to suggested getting a new door lock cam kit. But where does this cam fit. The Rimmer diagram doesn't actually show whether it fits in the door handle or the door latch.
Pierre3.
---
Sorry to be lazy, but i'm sure someone has the answer... on P38 no2 the passenger lock locks shut on the key fob, but does not open.... is that likely to be a jammed rod? seems odd for the motor to work one way and not the other... It just helps before pulling the door card off so that I can line up the necessary spares...
---
A while ago I thought my passenger door lock was flattening the battery as when charger was connected, the motor seemed to run.
Anyway, I'm getting a very odd symptom (odd to me anyway)
So. If I don't use the car for 4 or more days, battery is so flat doors won't unlock or any lights show. Will start easily with a jump start.
But, if I lock and unlock the car several times a day over the same period, and NOT start the car, it holds its charge just fine.
I have ruled out battery by replacing it.
I've had the antenna Wi-Fi thing fix since owning the car. (5 years+) This is a new issue over last few months.
Any ideas where to check first?
Thanks
---
While sourcing a replacement radiator for overheating P38 diesel I notice that some have two brass fittings in the bottom, tank which mine does not have. I cannot find any reference to them in the catalogue. Can anyone shed any light on them??? Can they be fitted as a replacement to the "standard" 1999 radiator??
Cheers, Mike
---
Hello folks,
I need new front brake discs and front and rear pads replacing. Before I go in blindly buying, does anyone have any recommendations or types to avoid?
I have seen Britpart grooved and drilled discs advertised, are they worth bothering with? Or do they just eat the pads quicker or even wear out as quick as the pads?
I am guessing Minetx or EBC for the pads
Regards,
Si.
---
Brother's Range rover P38 2.5 diesel (1999) i suffering from occasional overheating. We have been slowly working through all the usual issues. New water pump fitted last year along with a new thermostat. There are no leaks in the system except through the overflow on the the reservoir when it overheats. Engine compression is excellent reading on the high end of the tolerance range across all cylinders. The heater system inside blows hot so no air leaks there. We believe it to be the baffle in the radiator as the top of the radiator is .very hot but the middle is only warm at best. Before spending oodles on a new radiator there are two questions which baffle us - not difficult at our age but we have got nearly a hundred years mechanic experience between us!!!!! The are two issues
When the engine overheats the coolant level rises in the expansion tank and vents through the overflow. When it cools it falls back to normal level.
He has driven the old girl for weeks at a time with no problems, then it the needle shoots up the temp gauge as it overheats.
The first could just be the expansion of the coolant as it gets hot. The second could just be more stop/starts on the last journey. Are there any other suggestions????
Cheers, Mike
---
This started on a dark and stormy night last Christmas......
I was driving home from California on the Coast Highway so as to avoid a large Sierra snow storm on highway 5.
the coast route had snow and ice as well, and as soon as I hit it, I got ABS and TC lights on! Not sliding or braking, so coincidence????
Pulled over, cycled ignition, and issue went away for about 10 miles, then on again.
Pulled off again, attached Nano, and looked for faults. None reported for brake system??
So, as it was 3am and I had been driving for 14 hours, I drove on.
Oddly, the ABS and TC seemed to be actually working...
For the last year, I have looked into the problem a couple of times, and again, no faults are ever reported by Nano.
When you turn on the ignition, and without starting the engine all 3 amigos go on.
After about 15 seconds, the Brake light goes off, and the message center beeps telling me I have an ABS failure.
Once I start the engine, and move the vehicle a small distance, (the usual distance that is needed to extinguish
the TC and ABS lights) the message center tells me I have Traction Control Failure.
I have 2 2002s here, and a 1999, so I compared readings from the Nano.
I get 2.33 to 2.35 volts on all sensors on all 3 and the nano says I am doing 1.7kph at a standstill.
Since this is an issue of the system failing at self test and before even starting the engine, and since all initial
readings for all 3 vehicles are virtually identical, I thought possibly it was an issue with the ABS ECU. So,
I pulled the working ECU from the 02 Borrego, and placed it in Bolt.
The issue went away for about 100 yards, then came back with the same message center warnings.
Anyone have any ideas so far??
Now, it gets stranger......I took the known good ABS ECU back out and installed it back in the Borrego.
The Borrego now has the SAME SYMPTOMS!!!!!
Identical behaviour when I switch on ignition.
Installing the ECU in Bolt for 5 minutes seems to have affected it. Again, no errors logged to be read by Nano!
Now I have 2 02s with the same issue. One that started on the road, and the other started in the shed by swapping in the ECU to Bolt.
Can anyone think just what is going on here, because I am stumped!
I hesitate to try the ECU from the 99, because it works...... but may take the Borrego ECU and try it the 99 to see if the problem shifts as expected........
Cheers,
Tom
---
Hi guys, I took my P38 for its annual test, this morning, and it failed on an ABS issue.
I had new front brake pads fitted, and a new caliper on the front passenger side, last week. The brakes, under normal road conditions, appear to be working perfectly. However, the guy in the test centre failed the test because he said that the drivers side front brake is "locking" when under braking. I don't quite understand what he is on about, but he said that it is an ABS fault.
Would anyone here on the forum have any idea what could be happening ? The brake caliper on the drivers side is the original item, but my garage guy says that it is working fine and doesn't need replacing.
I am wondering, have a memory of seeing ABS issues, whether the ABS unit could be faulty, and would it then produce the test failure fault, i.e. "locking" up the right hand wheel ?
Pierre3.
---
The Duchess has had a mild tick for a long time now, and this time round she got an advisory for a slight leak of exhaust from the manifold.
Today I overtook a van with full beans and suddenly I'm driving a steam train!!
Call me a wimp but I really don't have a clue where to go next. She'll probably got to the local garage (who have been very good) but just in case, are there any simple things I should try first? I'm guessing that it's likely I'll need to pony up for a new (passenger) manifold - are there any recommended ones?
Thanks!
Miles
---
Hi, I wonder whether someone could tell me the best way to replace the vapour/water barrier in the two front doors.
The existing barriers are kind of OK, but I have to fit a new window regulator in the drivers' side door [UK car] and the water barrier in this door has been opened quite a few times and I think that it is time just to fit a new one after the regulator is changed.
I looked on the internet and the only kit that I can find is from Australia, so I am ignoring that. I would prefer to fit original water barriers but does anyone know whether they are still available ? Perhaps someone has a part number ?
I suppose in the worst case scenario I could just use clear plastic, but the original water barriers are a kind of foam, and I suspect that this could make a difference in sound proofing, as well as preventing water vapour getting into the door card.
Any help would be appreciated, as always.
Pierre3.
---
Hi Gents, I just bought myself another P38...slightly better version of the 50th I already have : o) It comes with an LPG install and I'm wondering if it is worth retaining, or just strip it off... Is it complicated to remove?
As you can see I know nothing about LPG...so I'm all ears
---
---
I think there are a couple more Canuck's on this forum so I'm posting this for your interest. Maybe they've had this for a while, but it's the first I've known of it. LR Direct now gives you the option to prepay Canadian import fees at checkout. It worked! No exorbitant "brokerage" fees by the Courier company on delivery, and probably a third of the price (my guess).
---
Hello folks,
I recently fitted a reconditioned auto-box from Ashcroft Transmissions. All was going well until last night when I got a 'Transmission Fault' message and the box went into third gear 'limp' mode.
Thanks to my newly acquired Nanocom (thanks DaveAll) I was able to read the code - output shaft speed error.
I reset the code, set the Nanocom to display the live readings and with wife reading out the speeds I went for a little dive. All was good.
After she went back indoors and I had a bit more of a play I got another 'Transmission Fault' warning, this time the fault was the anti-stall solenoid (or words to that effect).
Again it was cleared and all is good.
I am suspecting I have a bad connection in the loom somewhere. The greabox plug is securely attached, though I will disconnect and check it is clean. What is the routing of the rest of the loom? Are there any multiplugs elswhere known to give problems (assuming this is just a poor coincidence)?
---
Evening all
Strange things started on the way back from Peterbrough show where half the LCD display went dull
Didn't think much of it. Just age related and I could still make out the mileage etc
Yesterday the rev counter took over a mind of its own and then today I lost the speedo.
I replaced the ABS Ecu. As I'm odd and had a spare.
This seemed to fix the above and the LCD display is back to being full brightness again.
I'm not sure how this is linked.
I plugged my old Hawkeye Total in and checked the BECM.
I got faults saying communication lost to centre console outstation
Also to left and right doors.
Now I must say I am aware that something has been messed with by previous bodgers of the sweet old girl.
As she use to start on a button to override the immobiliser and there was a link wired in to the fuse box in the bonnet.
To start the P38 when I got her. You just turned the ignition on and then pressed a button. But that's another story .... I think
Any help regarding the outstations much appreciated
Or was it purely the ABS ECU
---
I have the following NANOCOM readings;
P0300 Multiple Cylinders Drive Cycle C, Occurred 4 times, Signal Too High, Fault is currently present
P1000 Cylinder 4 Drive Cycle C, Occurred 4 times, Signal Too High, Fault is currently present
P1000 Cylinder 2 Drive Cycle C, Occurred 1 time, Signal Too High, Fault is currently present.
P0306 Cylinder 6 Drive Cycle C, Occurred 2 times, Signal Too High, Fault is currently present
Nothing for other cyclinders. Nothing for cylinder 8 either.
HISTORY. 2000 P38 HSE. 143,000 mi.
About a week ago the vehicle would be a little rough on idle from start but only after the engine was warm and maybe she was sat for 15 minutes. No idle issue from cold start. Idle getting progressively worse but clears after a few minutes. Car drives fine but Ive put her in shed until this gets resolved.
Thoughts and what needs replacing?
---
I've been trying to place an order but their site is down. Can anyone confirm that they are still open for business and the site is just temporarily down?
---
Hi, I am back again - this time I am looking for a clue as to why my fuel gauge is acting strangely.
In the past two years I have had the gauge act with a mind of its' own, in that when the tank level gets down to just below half-full the gauge will suddenly drop to empty. It will stay like that for perhaps 10 miles, or else if the ignition is turned off, and then it comes back up again.
This morning, when I turned on the ignotion the gauge sat on empty, but for the first time a message came up "Fuel Gauge Fault". This stayed on for about 5 minutes and when I went to drive off I noticed that it had gone and the gauge was back up at its normal position [depending on fuel level].
I asked my local garage guy and he thought that it is a cable issue, he suggested that it could be the connections on the top of the pump or a plug connection a bit further along the cable [wherever that might be].
Perhaps someone can suggest what could be the issue ?
Currently waiting for new brake pads to arrive, although I think that I may replace the discs as well. They look a bit heavily grooved but I was looking in poor light. I will look again tomorrow.
Pierre3.